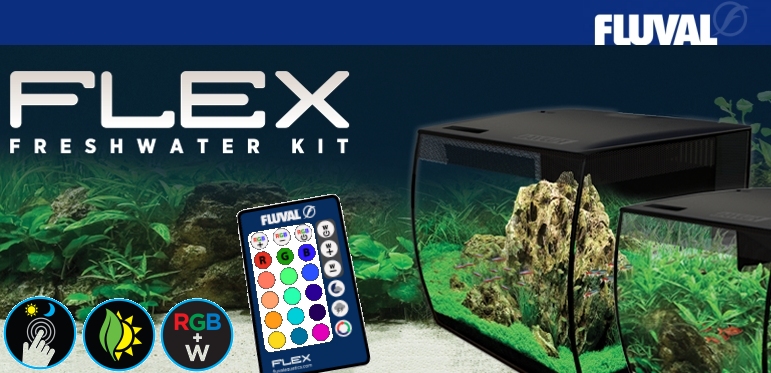 ALL-IN-ONE FRESHWATER KIT
The Flex 34 & 57 L aquariums provide contemporary styling with its distinctive curved front. The tank is also equipped with powerful 3-stage integrated filtration system and an infrared remote control that allows you to select between several colors and special effects. The end result? A fully equipped kit providing hobbyists with all the necessary hardware needed to set up a thriving freshwater aquarium.
The Flex 123 L aquarium makes an exciting addition to Fluval's bold curved aquarium series. It comes equipped with a mobile device operated Aquasky LED that offers total control over brilliant custom colors, multiple dynamic effects and a programmable 24-hour light timer. In addition, this all-new Flex includes a built-in filtration system with 2 independent multi-stage chambers for maximum cleaning efficiency.
BRILLIANT ILLUMINATION
Fully adjustable 7500K White + RBG LEDs enhances fish colours and is capable of growing lush low-to-mid light plants.

MULTI-STAGE FILTRATION

FOAM
Mechanical
CARBON
Chemical
BIOMAX
Biological
FREE MEDIA INCLUDED
FOAM FILTER BLOCK
CARBON INSERT
BIOMAX INSERT
​
SMART STYLE & DESIGN
MULTIPLE MODELS AVAILABLE
*Model selection may vary by country.
COMPARE THE MODELS
MODEL
Item #
FLEX
15004
FLEX
15005
FLEX
15006
FLEX
15008
FLEX
14995
FLEX
14996
Color
Black
White
Black
White
Black
White
Aquarium Capacity
(34 L)
(34 L)
(57 L)
(57 L)
(123 L)
(123 L)
Wattage
7 W
7 W
10.8 W
10.8 W
21 W
21 W
Lumens
1900 lm
1900 lm
2450 lm
2450 lm
1450 lm
1450 lm
Color Temp.
7500 K
7500 K
7500 K
7500 K
3000 – 25 000 K
3000 – 25 000 K
LEDs
36 + 3 RGB
36 + 3 RGB
48 + 6 RGB
48 + 6 RGB
–
–
Pump Output
61 US Gal/h
(230 L/h)
61 US Gal/h
(230 L/h)
132 US Gal/h
(500 L/h)
132 US Gal/h
(500 L/h)
120 V / 60 Hz:
214 US Gal/h
(810 L/h)

220 V / 50 Hz:
203 US Gal/h
(770 L/h)

120 V / 60 Hz:
214 US Gal/h
(810 L/h)

220 V / 50 Hz:
203 US Gal/h
(770 L/h)

Dimensions
(L x W x H)
14 x 13 x 13″
(35 x 33 x 33 cm)
14 x 13 x 13″
(35 x 33 x 33 cm)
16 x 15 x 15″
(41 x 39 x 39 cm)
16 x 15 x 15″
(41 x 39 x 39 cm)
32.5 x 15.35 x 15.75″
(82 x 39 x 40 cm)
32.5 x 15.35 x 15.75″
(82 x 39 x 40 cm)