LIFESTYLE FRESHWATER KITS
With clean lines and a contemporary design, the popular ROMA aquarium series offers beautiful aesthetics and functionality for today's modern fish keeper. They now feature energy-efficient LED lighting, including a bright daylight spectrum to help support plant growth and enhance fish colors. The line also comes equipped with a powerful filter and reliable heater.
MATCHING CABINETRY
All Roma aquariums have a matching cabinet. These coordinating stands are available in 3 stunning colors to compliment any décor, and offer a space-saving design with ample storage to hide accessories. An internal shelf provides plenty of space to hold a canister filter, while soft-close doors minimize vibrations and reduce stress to your fish.
---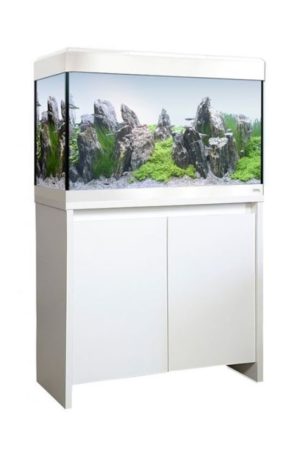 ROMA 125 NOW AVAILIBLE IN WHITE!
Fluval Roma 125 LED Aquarium and Cabinet in White is the latest additional to the ever popular Roma Range. The aquarium is 125 Litres and includes AquaSky Bluetooth technology LED Lighting, Heater, Internal Filtration and soft close cabinet.
---
MULTIPLE SIZES
Fluval Roma aquariums are available in 4 convenient sizes to fit any space:
90 L, 125 L, 200L and 240L.
INTEGRATED BLUETOOTH LED LIGHTING
Roma aquariums are equipped with energy efficient Bluetooth LED lighting, with a bright daylight spectrum to help support plant growth and enhance fish colours to truly transform your aquarium.
INTEGRATED HEATING
ROMA aquariums include a premium Italian-made Fluval M series heater. Featuring an ultra-slim profile, M series is highlighted by its reflective borosilicate glass tube, which allows it to blend in seamlessly with its aquatic surroundings. Within the tube itself you'll find a computer-calibrated thermostat, which undergoes a 16-point quality assurance program for superior temperature precision.
POWERFUL FILTRATION
All Fluval ROMA aquariums include a powerful Fluval filter.
COMPARE THE MODELS
MODEL
Item #
ROMA 90
ROMA 125
ROMA 200
ROMA 240
Aquarium Capacity
24 US Gal
(90 L)
33 US Gal
(125 L)
53 US Gal
(200 L)
63 US Gal
(240 L)
Filter
Fluval U2
Internal Filter
Fluval U3
Internal Filter
Fluval U4
Internal Filter
Fluval 307
External Filter
Heater
Fluval M 100 W
Fluval M 150 W
Fluval M 200 W
Fluval M 300 W
Lighting
Fluval 7.5 W
Bluetooth LED Light
Fluval 10 W
Bluetooth LED Light
Fluval 12.5 W
Bluetooth LED Light
Fluval 14.5 W
Bluetooth LED Light
Dimensions
(L x W x H)
24 x 10 x 20″
(60 x 35 x 50 cm)
39 x 14 x 20″
(80 x 35 x 50 cm)
39 x 16 x 22″
(100 x 40 x 55 cm
47 x 16 x 22″
(120 x 40 x 55 cm)
Cabinet Dimensions
(L x W x H)
24 x 10 x 20″
(60 x 35 x 71.5 cm)
39 x 14 x 28″
(80 x 35 x 71.5 cm)
39 x 16 x 28″
(100 x 40 x 71.5 cm)
47 x 16 x 28″
(120 x 40 x 71.5 cm)