CIANO AQUA 60
| | |
| --- | --- |
| An aquarium endowed with complete equipment for discovering aquarium keeping in confident fashion, equipped with a motor, a heater, pre-installation of discreet air pump tube connection and a biological filter. The 30PPI FOAM and the CFBIO150 Ciano® filter ensures an optimum renewal of water and perfect maintenance of the aquatic balance and the WATER CLEAR Ciano® dose makes the water crystal clear and eliminates odors. | |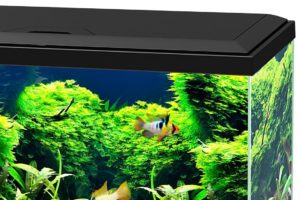 Stylish and durable
With perfect and resistant finishes, the Aqua 60 excels by its elegance and safety, with anti-shock plastic frames, polished corners and its lid with hinges.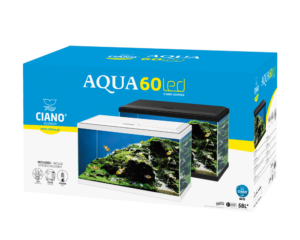 Equipment Included
1 Biological filter CFBIO150 Ciano®;
1 LED lighting system CLA60 Ciano® (8W – 18VDC);
1 Converter system (18VDC);
1 Water Pump 260 l/h;
1 Heater 50W;
1 Dose WATER CLEAR "L" Ciano®;
1 FOAM "L" 30PPI Ciano®;
Efficient and functional biological filtration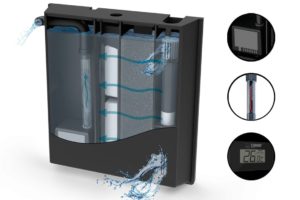 The aquarium is equipped with a CFBIO150 Ciano® biological filtration system, with more filtration power due to its horizontal filtration (filter masses). The filter is equipped with a high performance motor 260 l / h, an efficient 50W heater and consumables (1 Water Clear "L" and 1 FOAM" L ") for chemical, biological and mechanical filtration. Optionally, you can attach a fully immersible digital thermometer with integrated sensor.
High quality natural lighting
The Aqua 60 features the CLA60 Ciano®, a certified low voltage lighting system for total safety, ensuring natural lighting and low energy consumption.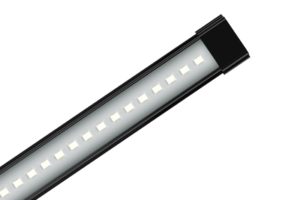 Technical information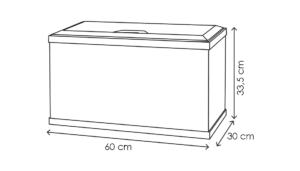 | | |
| --- | --- |
| Colour | Black/White |
| Dimensions (LxWxH) | 60 x 30 x 33.5 cm |
| Total Volume | 58L |
| Optional Stand – Colour | Black/White |